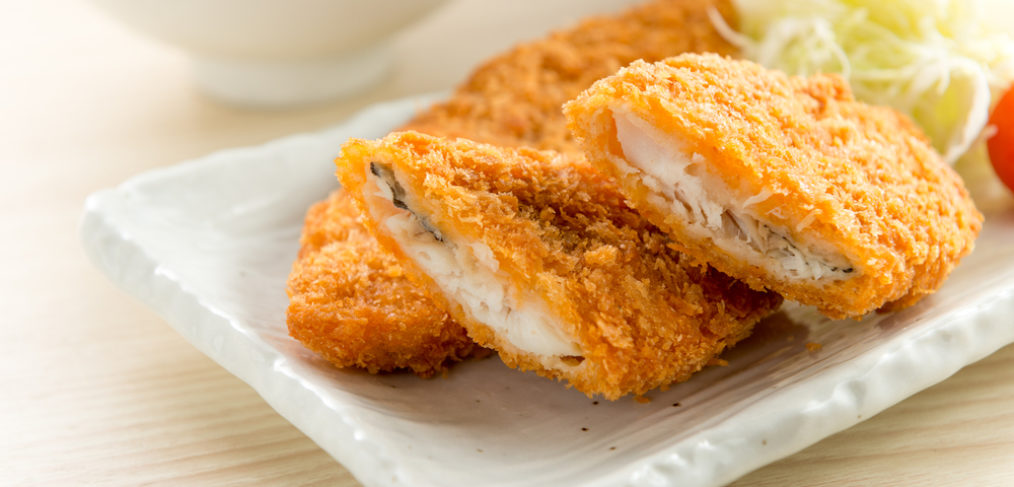 Try Your Hand at a Fish Fry
There's not much else that beats the taste of freshly cooked, freshly caught fish. If you've always wanted to host a fish fry, whether for your neighborhood or just for your family, here are three delicious recipes you can try!
Speckled Trout
Trout Buttered in a Lemon Garlic Herb Sauce
2 fresh speckled trout fillets with skin on the bottom
2 tablespoons olive oil (or more if needed)
1 tablespoon Italian herb seasoning
4 cloves garlic, diced or minced
3 tablespoons freshly squeezed lemon juice
2 tablespoons white wine
2 tablespoons softened butter
2 tablespoons chopped parsley
Season top of fillets with Italian herb seasoning and salt. In a large skillet, heat olive oil on medium heat until heated through but not smoking. Add fillets to the olive oil, skin side up and cook for about 3 to 5 minutes or until lightly browned. Make sure the oil doesn't smoke.
Flip fillets over and cook for another 2 to 4 minutes, skin side down. Add more olive oil if needed. Remove skillet from heat and cover with a lid. Let sit for 5 to 10 minutes.
After the fish has sat and cooked through off the heat, remove fillets to a plate and separate the fish from the skin.
Remove fish scales from the bottom of the skillet, but leave any oil and juices in the pan. Add garlic, lemon juice, and white wine to oil in the pan and cook over medium-low heat until the garlic softens.
Remove from heat and add 1 tablespoon of parsley and butter, stirring until butter melts and forms a creamy sauce. Add fish fillets to the pan and spoon sauce over fillets, then top with the remaining parsley and enjoy!
Redfish
Cajun Blackened Redfish
4 fresh redfish fillets
¼ cup melted butter
1 teaspoon cayenne pepper
1 teaspoon black pepper
1 teaspoon lemon pepper
1 teaspoon garlic powder
1 teaspoon salt
1 ¼ cups Italian-style salad dressing
Preheat oven to 350F.
In a medium saucepan, melt butter on low heat, then cool to room temperature. Meanwhile, combine cayenne pepper, black pepper, lemon pepper, garlic powder, and salt in a medium bowl and set aside.
Dip fillets in melted butter, then coat in seasoning mixture. Then, in a large skillet, sear fish on each side for about 2 minutes over high heat until slightly charred.
Place seared fillets in a baking dish and pour Italian-style dressing over each fillet. Cover and bake at 350F for 30 minutes until fillets are flaking and tender. Enjoy!
Flounder
Crispy Flounder with Roasted Tomatoes
4 fresh flounder fillets
2 tablespoons capers
2 tablespoons olive oil
1 pint cherry tomatoes
¼ teaspoon kosher salt
¼ teaspoon black pepper
¼ teaspoon thinly sliced basil
1 cup panko (breadcrumbs)
1 tablespoon chopped parsley
2 teaspoons fresh thyme
Cooking spray or oil
Preheat oven to 400F. Combine capers, 1 tablespoon olive oil, and tomatoes in a large ovenproof skillet and toss to coat. Sprinkle with salt and pepper, then bake at 400F for 20 minutes. Remove from oven and top with basil.
Meanwhile, combine panko, parsley, and thyme in a shallow dish. Coat fillets with cooking spray or oil and dredge in panko mixture.
Heat 1 tablespoon olive oil in a nonstick skillet over medium-high heat, then add fillets to pan and cook for 3 minutes on each side, or until cooked through.
Season with salt and pepper to taste, then serve with roasted capers and tomatoes on top or on the side and enjoy!
Getting the Freshest of the Fresh Fish
Want truly fresh fish to put the finishing touches on these dishes and make them the talk of the town? We offer top-of-the-line fishing experiences in Texas. Trust our Galveston fishing guides to give you the fishing experience of a lifetime. Then, at the end of the day, take home your catch for a delicious fish dinner.
View our charter trip rates and get in touch with us today to get going!